Post tagging now available 🚀



We are thrilled to announce a massive update to our platform: Post Tagging and Additional Filters!

How does it work?

Post Tagging allows you to tag and gather posts that you would like to analyze as a whole. You can easily create tags, tag posts, develop metrics, and dashboards to provide an in-depth analysis of the campaign you are running. A significant thing to mention is that you are not limited to only your posts (or the accounts you manage). You can also tag competitors posts, and later run competitive analysis on the campaign level.

In order to start, navigate to an entirely new section on our sidebar menu called "Tags". There are two options there, "Post tags" and "Tag manager". Tags can be created from both of those sections. They both serve a slightly different purpose. For a quick post-filter and tag, quickly find posts, then "Post tags" is your place. For bulk creation and organization of the tags navigate to "Tag manager".

In the "Post tags" section you can either tag single posts or use our additional filters to bulk tag the posts.





Analyzing your tags

Thanks to this release, the wide spectrum of use cases are covered, including campaign management, A/B testing, and even more advanced competitive benchmarking. The tags functionality, sit directly within the data layer, which means that it is open for the customization via custom metrics. The list of data sources that support post tagging can be found below:

Facebook Post: facebookOwnPosts, facebookInsightsOwnPosts, facebookInsightsExpiredPosts
Facebook Video: facebookInsightsOwnVideos
Instagram Post: instagramOwnPosts, instagramInsightsOwnPosts
Instagram Story: instagramInsigthsStories
Twitter Tweet: twitterOwnTweets, twitterOwnReplies, twitterAnalyticsOwnTweets, twitterAnalyticsOwnReplies
YouTube Video: youtubeVideos, youtubeAnalyticsVideos, youtubeAnalyticsTopVideos
LinkedIn Post: linkedInAnalyticsOwnPosts
Snapchat Show Story: snapchatShowInsightsStories

In order to start analyzing posts by tags, navigate to either "Discover" section and choose predefined metrics or dashboards or enhance already created custom metrics by the new filter layer.

Additional Filters

In addition to Post Tagging we are releasing the Additional Filter feature. This update allows users to select ALL or ANY filters meeting specific criteria. It will filter the content within the posts including hashtags.

Filters on the metric level

Both, Post Tagging and Additional Filters are available on the single metric level. It means that each metric within the dashboard can have its own set of filters based on tags, keywords, dates, and profiles. To create a custom filter on the metric level, navigate to the chosen metric, click "Edit settings", scroll down, select "Select custom additional filters for this metric" and click on the "Filter" button. These filters are independent from the global dashboard settings.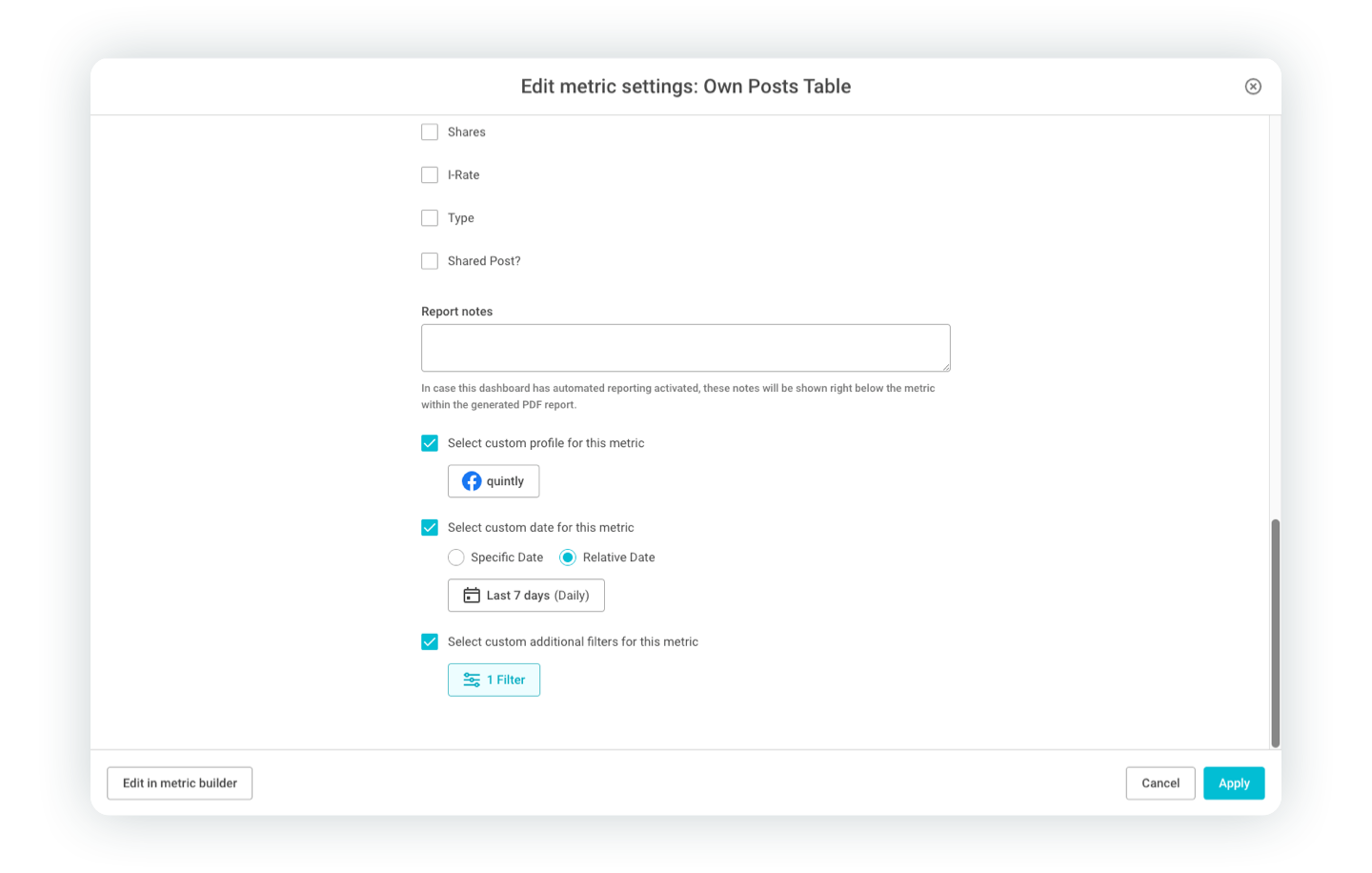 Wrap up

We are very happy with this release. It will allow our customers to utilize quintly in a completely new way. Again, thanks to the way this is built, those updates are available for custom metric building, data-push and API. We are very excited to see how you will utilize these new updates.

Further reading

If you would like to read our official product blog article, please click here.
If you would like to read our step by step support article, please visit our knowledge base. You can always reach out to us via our in app chat or sending an email to support@quintly.com.