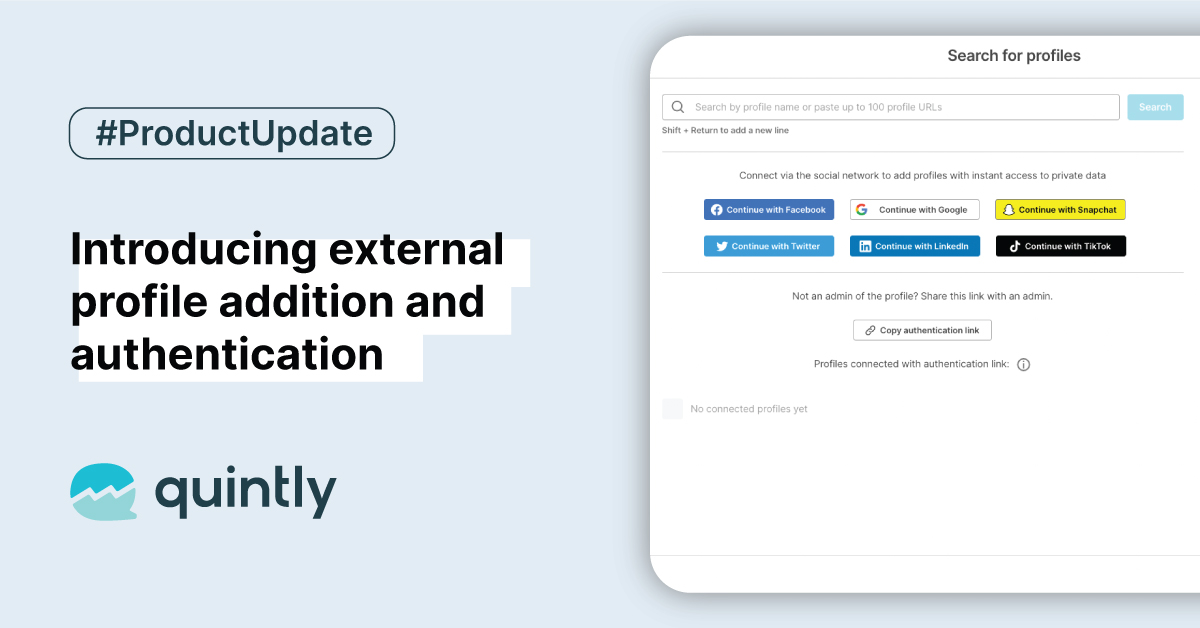 We are thrilled to deliver a new way of handling profile addition - external flow involving the end account owner. It is a welcomed addition for agency-type setups where quintly's account needs to analyze multiple externally managed profiles. Security and proactivity in the center, let's dive in.
Why is it important?
Profile addition was always a complicated use case when handling externally owned accounts, and it required loads of communication, reminders, and… in the worst-case scenario, password sharing. One of the most prominent client types for quintly is Agencies. Due to the nature of their business, analytics of externally owned accounts is a must. A few years ago, we implemented an authentication process to handle that, where the user can share a link with the external user, user logs in, and authenticate selected profiles, once they are added. We have decided to expand on this functionality and create a flow for the end client to add and authenticate their profiles. It's essential for networks where profile search, due to the technical API setup, is impossible ( TikTok and Snapchat Shows).
How does this flow work?
To request the end user add and authenticate accounts, go to the Accounts > Profiles section and click "New profile". Underneath the "Continue with…" Social network buttons, you will find a completely new button, "Copy authentication link". Once clicked, you can share copy, saved in your local clipboard, with the account owners. Upon opening the link, they will gain access to the personalized landing page. From here, they can use the native application flows to add and authenticate any accounts they manage.
Once finished, you will receive a notification via email and our in-app notification center that the profiles are ready to use. You can find them in the profile addition modal under the "Profiles connected with authentication link" section. You can now follow the standard profile addition. Bonus point - you already have access to private data!
Give control, and gain data.
What has started as a necessity (network limitation), in a true quintly's fashion, became a full-fledged feature. It fits in perfectly with the agency's use case, and we cannot wait for you to take advantage of this addition fully. Less communication, more data, saved time - we support that!