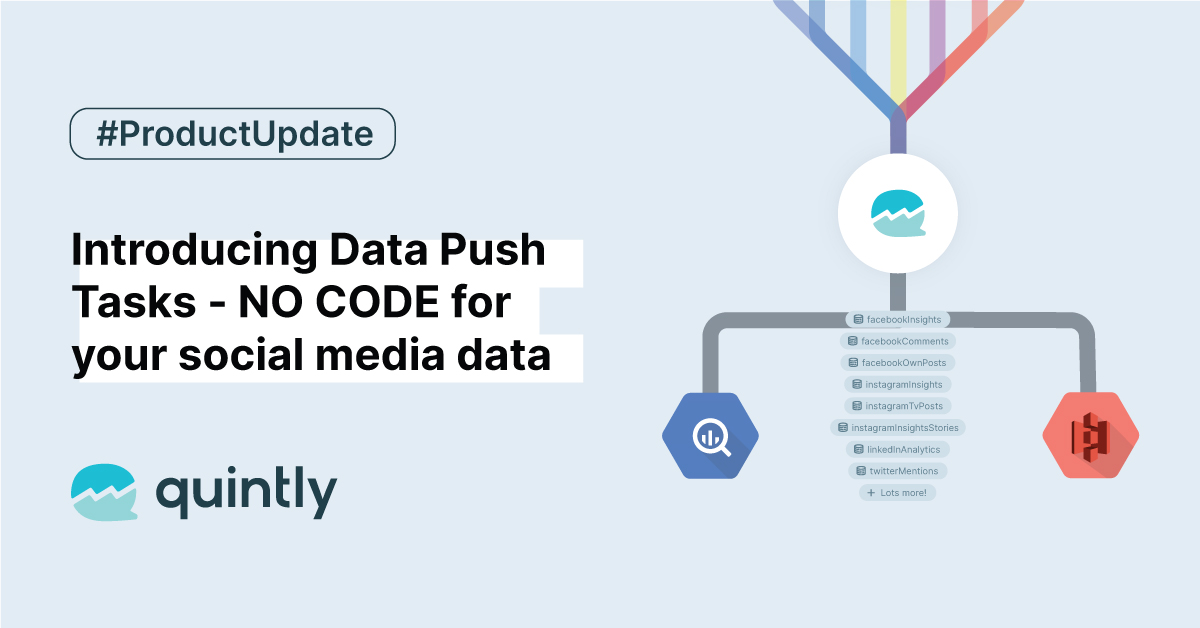 We are thrilled to bring forth one of our most powerful features - Data Push Tasks. For the first time, you will have complete control over what data you would like to push to your designated data warehousing solution. The best part? No development effort on your side! Let's dive in.
What are Data Push Tasks
Here at quintly, flexibility is one of our core beliefs, and it also translates to extending quintly into the whole MarTech ecosystem. That is why we have introduced three ways to help users get our quality-driven data into their IT infrastructure. Depending on the tech stack, our customers can choose the following options: get data via API, native integrations (google data studio and Tableau) or Push Tasks.
In a nutshell, Push tasks are scheduled events that would send all of your previously selected social media data to the data warehousing solution of your choice. The data would be quality-checked before transfer. Once your data is available, you can add it to your marketing stack.
How to get started
Please visit our integrations / Data Push Tasks page to initialize a push task. In this section, you can add new tasks, view your already scheduled ones or consult the limits.
When adding a new task, you must define which social network you want to use, which data source, and which columns are relevant. Choose your data provider (we support Google Big Query and Amazon S3), authenticate, and finish the setup with advanced (CRON-based) scheduling, and you are ready to go.
Save money on development
The most significant advantage of the Data Push Tasks is the "No Code" approach to the topic. All you have to do is to set up the task, and we will handle the rest for you, delivering the best quality data into your warehousing solution. We wanted to ensure that even if you do not have an extensive development budget, you can connect quintly's data to your data insights tech stack. We offer this service at a fixed cost of €300 per social network, not depending on the data size.
Is this product for you
Whether you are thinking about bringing social media data to your warehousing solution or you have access to limited development resources, the answer is - absolutely. It's a great extension built on a solid foundation of quinlty's data. If you are interested to find out more, contact our support team.