Integrate quintly with Google Data Studio 📈
Today we are excited to release our new Google Data Studio connector, enabling you to easily integrate quintly data in Google Data Studio. Google Data Studio is a popular tool used to analyze and report across various data sources.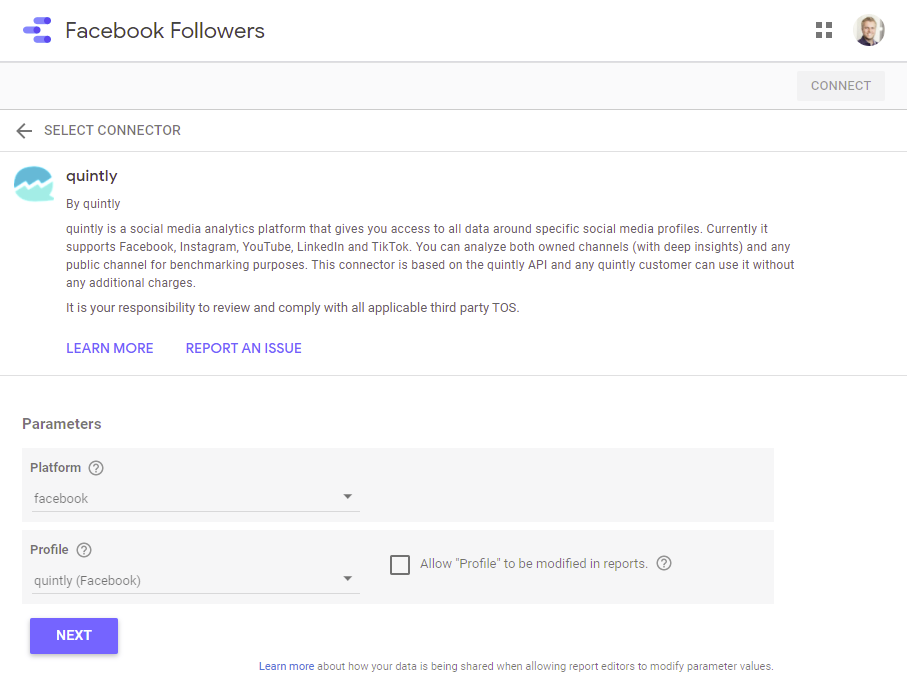 What is this all about?
Measuring the impact of your marketing initiatives requires avoiding data silos and enabling analysis across various sources, Social Media data being one of them. A common use case is connecting your Social Media data with Web Tracking or Sales data.
We understand that analyses spanning several sources cannot be done in quintly alone, and this is why we strongly believe in offering multiple ways to integrate quintly data in third-party solutions. While our API provides a generic interface to take data out, it comes with extra integration effort which is unsuitable for all cases. This is why we have decided to develop native integrations for commonly used business intelligence tools to simplify the integration. Our Google Data Studio connector marks the beginning of a series of new connectors to be developed by our team.
How to get started?
Log into Google Data Studio and find our Google Data Studio connector here. Click "quintly" and you will start right with creating your first data source in Google Data Studio using quintly data.
More connectors coming soon
You can expect us to offer additional connectors for popular business intelligence solutions soon. Next in line is a Tableau connector that we expect to finish in the coming weeks.