Introducing social network buttons for adding profiles 🔎
We have just released another way to add profiles that you would like to analyze quickly. We have now made adding profiles via social networks buttons available. Let's have a look 👇 .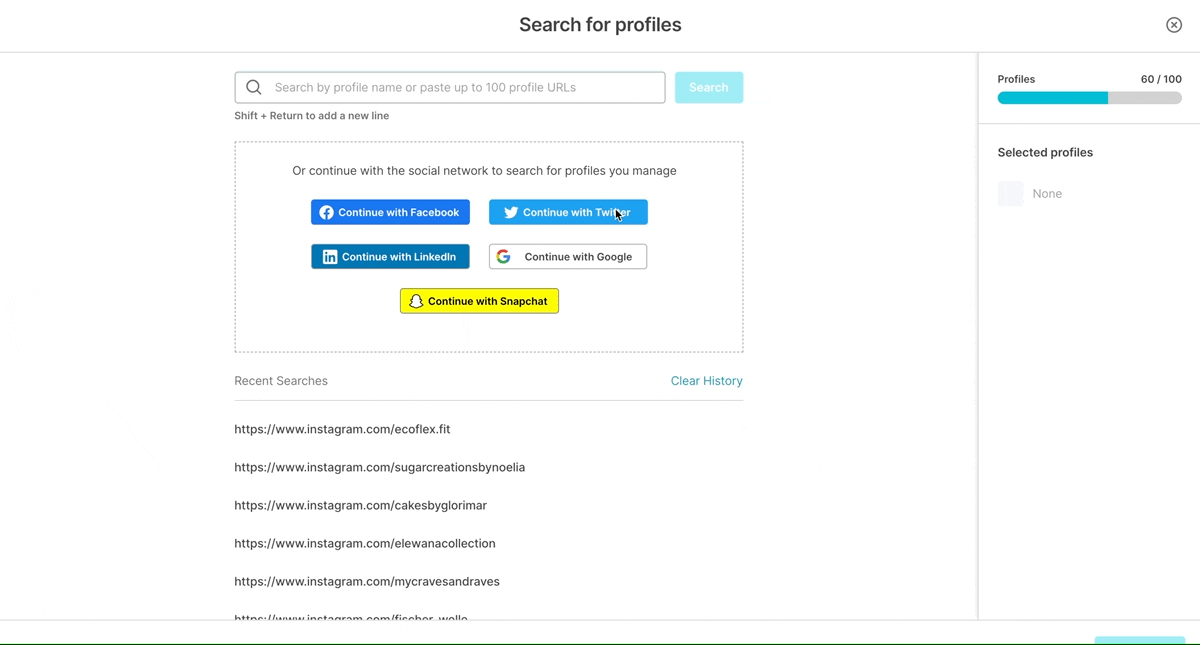 How does it work?
We have incorporated the 3rd party native social widgets. Thanks to those, you can quickly authenticate and access all managed accounts. Choose the business accounts/pages you would like to track and add to your sidebar. Currently, we support Facebook, Instagram, Twitter, LinkedIn, Youtube, and… Snapchat Shows 👀 . 
Snapchat Shows a.k.a. Originals 
Snapchat Shows have been in our roaster for quite some time, but not highly utilized due to the complicated nature of authenticating and adding profiles. So far, what has been a pretty cumbersome process has become very easy and intuitive, making analytics for Snapchat Shows accessible for everyone. Considering that this specific product of the Snapchat ecosystem handles premium streaming services within social media, it is crucial for brands, media companies, and agencies to analyze its performance and include it in the broader analytics pool.
Faster than ever!
We have started the UX improvements around profile searches and general onboarding in the second half of 2021, intending to give you the analytics as quickly and transparently as possible. The above improvement adds yet another way to speed up the profile adding process. It supplements multiple profile additions, whether via search or pasting a list of social media URLs. Stay tuned as they are a couple of more updates related to profiles handling up for release soon. Until the next one 👋 .